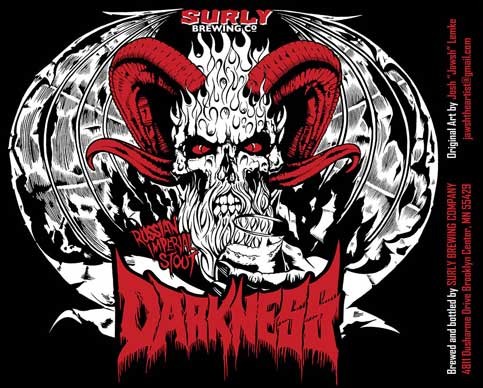 …apocalyptic? Not really. Dark and dank? Yup. Surly's Darkness Day is this Saturday. The gates open at 11am on Saturday, though no doubt people will be lined up as early as they can, hoping to get their hands on some of this year's Surly Darkness. As per usual, there will be plenty of food trucks, plenty of beer and some good music. There's no charge to enter, but if you want to buy some Darkness or a beer on site, bring cash.
Food Trucks:
6am – 11am:
Caribou Coffee & Glam Doll Donuts
11am – 5:30pm:
Stanley's On Wheels, Scratch Food Truck, Gogi Brothers Korean BBQ, Natedogs and Asian Invasion.
Live Music:
11-11:30am: Fallen Empire
Noon-12:30pm: God Came From Space
1-1:30pm: Rivers of Nihil
2-2:45pm: Vulgaari
3:15-4pm: Exhumed
4:30-5:15pm: Impaler

Swag: Darkness swag including chalices, posters, and shirts featuring 2013 Darkness art by Josh "Jawsh" Lemke as well as other Surly swag will be available for purchase. Josh will be signing merch under the big tent from 2-3pm.
Darkness Bottles: 1,500 wristbands for Darkness bottles will be given out on a first come first serve basis. Darkness bottles are $20 each, CASH ONLY, with a limit of 6 bottles per wristband.
Darkness wristbands will be color-coded and marked with your purchasing time. The bottle purchasing line is shown on the map and will be clearly marked on event day. If you miss your allotted time, you will be able to enter later to purchase bottles with any other group.
If there are extra bottles after the initial sales, Darkness Day attendees will be able to buy up to four bottles of Darkness starting at 3:30 pm (while quantities last).
Parking: Surly's neighbors have been gracious enough to let us use their parking lots. Don't make a mess. Overflow parking is available at Caribou across Hwy. 100.
Limited bike parking is available for those of you who are hardcore enough to go green. Look for it on the North side of 48th and Drew.
If you need to leave your car here, no problem. Please have it moved by Sunday morning or it will be towed.
THE RULES:
Must be 21+ to enter unless accompanied by parent. No tickets needed.
DON'T SHOW UP BEFORE 3:30pm on Friday! Neighboring businesses will still be open and we want to respect their space and employees.
Any tents/structures that are up during daylight hours will not be allowed.
We will have volunteers helping with the line overnight. Please follow their direction as they can blackball you from the event if you don't.
As always, be safe and arrange a ride or take a taxi home.
Pro Tip:
The event always thins out later in the afternoon. Come on out in the afternoon to enjoy the free bands and the brewery.