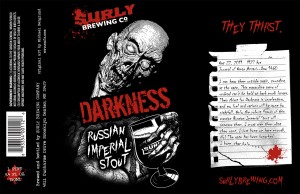 So a shit-ton of people walk into an industrial park in Brooklyn and…
Surely there's a joke in there, somewhere. In any case, Oct. 22nd is your chance to join a frenzied horde of thirsty zombies outside the Surly brewery at an ungodly hour to get your hands on Darkness, their Russian Imperial Stout. The actual event runs from 11am-5pm, but you can guess that the lines will be far too long if you don't show up a little early. How early? Your call. Some folks have been known to camp out the night before.
Details: Darkness will set you back $18 for a 750ml bottle. Folks waiting in line will (potentially) get a wristband that will allow them to purchase up to six bottles. Without a band, you can purchase up to four bottles starting at 4pm, assuming there's any left. Bring cash, cuz Surly doesn't accept brains… or plastic… or checks.
Wanna' buy a beer? Tokens are $4 for a 12 oz. pour. Volunteers will be pouring beer in the trailer and tap room.
Food? Check. The Chef Shack, Play Ball Catering, Natedogs and Potter's Pasties and Pies
Bands: – God Came From Space, Guzzlemug, Droids Attack, Ambassador Gun