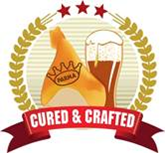 A Chef Tasting and Pairing of Prosciutto di Parma with local Craft Breweries.

IN ONE EVENING you will sample some of the top restaurants in town. You will meet the Chefs and savor their dishes featuring Prosciutto di Parma paired with a Chef selected craft beer.
ONE CHEF will be crowned King of Parma in a high-spirited Chef Throw-Down judged by a panel of food editors and writers led by the man-about-town, Emcee Jason DeRusha. Guests vote for the best pairing via social media to be entered to win dinner for 2 to the winning Chef's restaurant! The Peoples Choice Chef will be awarded a leg of Prosciutto di Parma.
CHEFS Barbette's Chef Sarah Master, competitor on The Taste, Boneyard's southern import, Chef Jason Bush, Terzo Vino Bar's Chef Thomas Broder, HauteDish's Chef Landon Schoenefeld, Porter & Frye's Chef Aaron Uban, Rinata's Chef Erik Weed, Union's Chef Stewart Woodman and Wise Acre Eatery's Chef Beth Fisher.
SIP SAVOR + SOCIALIZE
VOTE your paired-pick via social media to enter to win dinner for 2 to the winning Chef's restaurant.
SAMPLE  Craft Beers from Bauhaus Brew Labs, Bent Paddle Brewing, Boom Island, Dangerous Man, Fulton, Indeed and 612Brew.
SIP specialty craft cocktails served by two of the city's rock-star mixologists: Tyler Kleinow of Marvel Bar and Johnny Michaels. Featuring hand crafted, small batch spirits provided by Norseman Distillery.
BE A VIPP (very important prosciutto person) and enjoy the decadent specially aged Prosciutto di Parma hand-sliced by our Master Slicer Francesco Lupo, direct from NYC, paired with delicious cheeses provided by Broders' Cucina Italiana.
GROOVE with DJ Jake Rudh who will be spinning tunes all night.
HAM-IT-UP in our Slo-Mo Video Playground.
GET INKED Tattoo Artist Garret Rautio will ink the iconic Parma Crown logo onsite to adventurous guests.*
Tattooed guests will be rewarded with a whole leg of Prosciutto di Parma to take home!
*If you're interested in getting a tattoo please contact contact@redexperiencedesign.com.
Guests must 21+ to attend this event