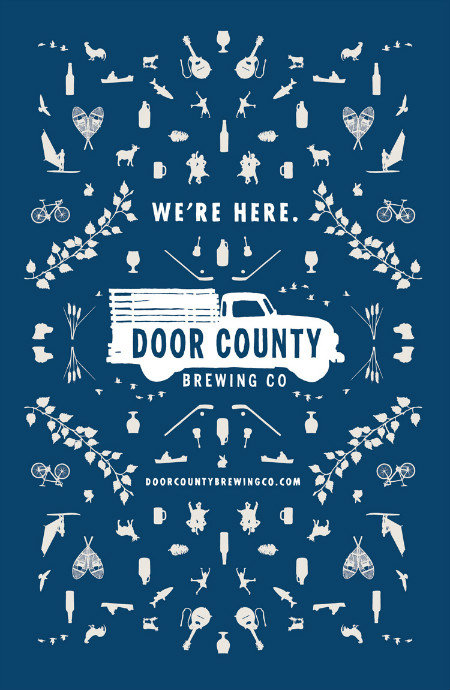 Door County Brewing Company is thrilled to announce our launch in Minnesota. We recognize your high standards of great beer; we applaud your own breweries and look forward to joining such a great market on March 31.
"Minnesota has always taken great pride in its beer," said Door County Brewing Co. Founder John McMahon. "Which is why it was the obvious choice for our next move with the brand."
Inspired by our friends, our families and our landscape, Door County Brewing Co. was founded on local heritage. Thoughtfully handcrafted, never pretentious and always local, our mission is to create beers that lead to a gathering of community and friends wherever you are.
Until now, Door County Brewing Co. beer has only been available is Wisconsin, and there is no mistake about bringing it to Minnesota next. "The Twin Cities is a great craft beer market," said Head Brewer Danny McMahon. "They've got plenty of great local breweries making great beer, so people know what good beer should be."
A long time resident of the Twin Cities during school, Danny McMahon is excited to enter Minnesota for a number of reasons, but most of all to share his creations. "I've got a lot of friends that have been interested in our beer that haven't really been able to get our beer yet. I'm excited and happy that they'll be able to get our beer now without having to make the trip all the way to Door County."
Bringing the classics, our The Polka King Porter, Little Sister Witbier, Pastoral Farmhouse Ale, Biere de Seigle and Silurian Stout will be available at a Minnesota retailer near you April 1. In addition to our first five, Door County Brewing Co. is thrilled to announce our newest addition Bare Bottom Madness Pale Ale will be on released May 5 at a retailer near you.
To celebrate this exciting news we have two launch parties for you! Join Founder John McMahon and Head Brewer Danny McMahon in Golden Valley at the New Bohemia American Beer Hall Tuesday, March 31 at 5pm for a tasting of our Polka King, Pastoral, Biere de Seigle, and a special Svart Vinter.
Then join the guys in Duluth at Grizzly's Woodfired Grill Friday, April 3 at 4pm for a sampling of Door County Brewing Co. beer, merchandise, giveaways and more. So come by, celebrate with us and savor the flavor of Door County Brewing Co., now available in Minnesota.