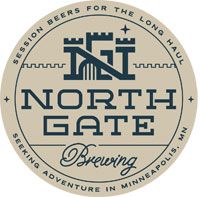 Celebrating the brewery's 2nd Anniversary
It feels like only yesterday that NorthGate started producing British style session beers for the Twin Cities, but at the end of the month they're celebrating our 2nd anniversary! They started in a 700-square-foot facility that was so small they could only offer two styles at a time. But big changes were on the horizon for NorthGate Brewing. Over the summer they secured a new space, new equipment, and a new taproom, and they're doing something special to celebrate. NorthGate is bringing back their first anniversary Fiddle Smasher in addition to two new big beer styles.
On January 31st they're opening the taproom doors early for the Big Beer Birthday Bash and selling sets of three great beers. Each bottle will be hand numbered and wax dipped to seal them for aging. Each bottle set will come with a commemorative snifter, bottle opener, and more. Five hundred of the sets will be available for presale with the remainder available for purchase on January 31. If you would like to reserve a set to make sure to visit:
https://www.eventbrite.com/e/big-beer-birthday-bottle-set-tickets-14962778072
Details:
Saturday, January 31, 2014
10am–close
Beers: All big beers will be available on tap in addition to our year-round favorites
Food: Kabomlette (10am–2pm) & Potter's Pasties (4pm–close)
Entertainment: Morris Dancers, The Gentleman's Anti-Temperance League, and Brian Boru Bagpipes
Gear: Shameless Inc. custom screen printing
Info on the Beers from the Brewer:
2015 Fiddle Smasher Wee Heavy – 8% ABV
A light copper-colored ale with strong malty sweetness. Hints of dark fruits with flavors evoking dates, plums, and raisins. Medium bodied with a warming finish. Traditionally fermented at slightly lower temperatures than standard ales which is appropriate for the region of origin. Named after the lament of Jamie Macpherson who shares a clan lineage with our own taproom manager who originally told us of the tale. As he stood at the gallows he asked the crowd to play the dirge on his fiddle. When no one would he smashed it so that no one would ever be able to play his beloved instrument again.
Russian Imperial Stout – 7.2% ABV 60 IBU 40 SRM
Nearly opaque in color. Malty forward with hints of roasted coffee and chocolate and a subtle caramel sweetness. A traditional English ale that was brewed almost exclusively for export to Russia and Baltic states. Popular with the court of Catherine the 2nd it has been rediscovered by American audiences recently and enjoyed just as much.
Bourbon Barrel Aged Old Ale – 9% ABV 30 IBU 22 SRM
Dark amber in color with strong bourbon notes. Malt sweetness mixed with woody notes, fruity esters and a strong warming finish. The barrels were chosen from our Head Brewer's favorite liquor, bourbon from the Breckenridge Distillery. Our first set of barrels for the new brewery, we are ecstatic with the resulting beer.