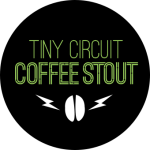 Short Circuit Stout + Tiny Footprint Coffee = Tiny Circuit Coffee Stout
Tin Whiskers Brewing Company is proud to announce the release of Tiny Circuit Coffee Stout at 5 PM on October 21st, 2015 at the Tin Whiskers taproom in Saint Paul. A collaboration with local coffee roaster Tiny Footprint Coffee, this beer combines the sweet and roasty Short Circuit Stout and Tiny Footprint's Ethiopian Yirgacheffe dark roast which has a full, velvety body and notes of ripe red fruit. Served on nitrogen, the result is creamy, complex, and robust.
"This was such a fun collaboration because we both have a great passion for the quality of our products. We got to learn from Tiny Footprint about the roasting process and where their coffee comes from while experiencing the environment of the roastery. We look forward to what this partnership will continue to bring." notes Jeff Moriarty, President and 1/3 founder of Tin Whiskers.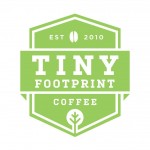 Tiny Footprint Coffee is the world's first carbon negative coffee company. They source the finest, sustainably-grown Arabica coffee beans from around the world from small, family-owned, and organic certified farms. Tiny Footprint does all of the roasting and training from the roastery in Minneapolis, Minnesota. More information is available at www.tinyfootprintcoffee.com.