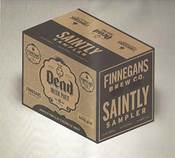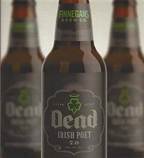 Cool news from the gang at Finnegans – this fall they'll be rolling out a limited release Extra stout, Dead Irish Poet, in October. I love the name! This beer is designed for the cold months and will feature dark chocolate and stone fruit notes not unlike stouts found in the southern-most region of Ireland. Weighing in at 7% abv, this should warm the soul on those cool fall/winter days.
Finnegans will also be offering up a "Saintly Sampler" 12 pack featuring 6 Dead Irish Poet Extra Stouts,  3 Irish Amber Ales and 3 Blonde Ales.  Even cooler? distributors match Finnegans donations, doubling our giving during their November & December Drink Like You Care Campaign!
To make this all happen, Finnegans will be running a Kickstarter campaign starting August 1st. Their goal is to raise $30,000. Starting August 1st, you can throw down some cash for a good cause right here:  https://www.kickstarter.com/profile/FINNEGANS
Best local beer Kickstarter yet? I think so.