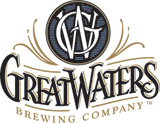 We mentioned Great Waters' 15th Anniversary in an earlier post, but below you'll find some specifics on their  special five-course, five-cask dinner. The menu, created by Great Waters' chef Ernesto, has been carefully planned alongside five specially chosen beers by Brewmaster Bob.
Details of the dinner, which takes place at 7pm on Monday, April 2, at Great Waters Brewing Co., are below:
1. Smoked Tomato Capsicum with Great Waters House Ale
2. Carnitas Lettuce Wrap with Blackwatch Oat Stout (with Cacao Nibs)
3. Almond Encrusted Walleye & Tomato Scallop Sauce with Dry-Hopped Timma IPA
4. Pork Tenderloin, Polenta & Mild Chipotle Sauce with O'Byrne's Irish Red
5. Fruit Pizza & Bacon Chocolate Chip Cookie with Scotch Ale
Tickets are still available for the event at $65, http://www.greatwatersbc.com.