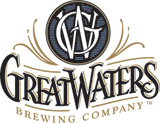 Great Waters is coming up on a milestone, their 15th anniversary, and to celebrate they're offering a week's worth of celebrations. You don't have any excuse not to make it over at least once.
Throughout the week, we'll be releasing 15 different cask beers – 15 beers for 15 years, so every days cask list will be a little different. We've had 4 beer engines pumping everyday for the last 15 years, so this seemed a fitting tribute. Come in and get a "Caskport" and chart how many of the 15 you've tried. Try 10 or more throughout the week and you'll be elligible to win a brew day with Bob & Chad where you get to name the beer and come back when it's done to tap up the first firkin!

On Sunday, April 1st at 5PM we'll be releasing one last keg of our ginger spiced Yuletide Ale (although given the date, maybe we'll call it Fooltide Ale) with $1.50 pints of that all night.

Monday, April 2nd will feature our all-cask 5 course Beer Dinner. That's right, each course will be paired with a Cask Ale. $65 regular/ $55 MBA Members. More details, including menu and exact start time will be released this week.

Tuesday, April 3rd is Old Home Night. All former GWBC staff is invited down for reunion to wax nostalgic and share a few pints. If you've been a regular for quite a while, there'll be some old familiar faces to visit with that night.

Wednesday, April 4th will be a 15th anniversary MBA party. All active MBA members are invited down starting at 6PM for some free food, a bit of free beer followed by very cheap beer, and good company. Not an MBA member? There's still time to join but only a few spaces remain at the moment!

The rest of the week will feature more Cask Ales released, drink specials, and possibly more events and giveaways. Stay tuned to this site or our Facebook and Twitter for more details.

Please note that we will be closed on Sunday, April 8th for Easter.

A big thanks to all of you that have supported us and made these 15 years possible!