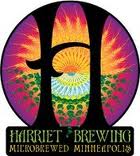 Clear your calendars. Harriet Brewing just made plans for you… On Saturday, September 28th, the brewery celebrates beer (duh), art, food and music with the festival known as Rauchfest! This smokin' event features two stages of musical mystery, ten bands, food trucks a'plenty and local artists.
Want a ticket? Friday is your day… tickets go on sale at noon on August 16th at harietbrewing.com
Tickets Go On Sale Friday, August 16th at Noon at www.harrietbrewing.com
Par for the course, our friends at Harriet will brew a single batch fo Rauchfest, a smokes Oktoberfest lager. And if smoky beers aren't your thing, fear not as Harriet will have 8 beers on tap as well as food from Tollefson's Family Pork, AZ Canteen and Potters Pasties.
Musical acts include Boys 'N The Barrels, Useful Jenkins, Dérobé Dance Band, The Blackberry Brandy Boys, Dead Larry, Molly Maher & Her Disbelievers, Erik Koskinen Band, Hobo Nephews of Uncle Frank, and more.
General Admission tickets are $10.00 before Sept. 23 and $15.00 week of show. Purchase Tickets at Harriet Brewing or online at www.harrietbrewing.com