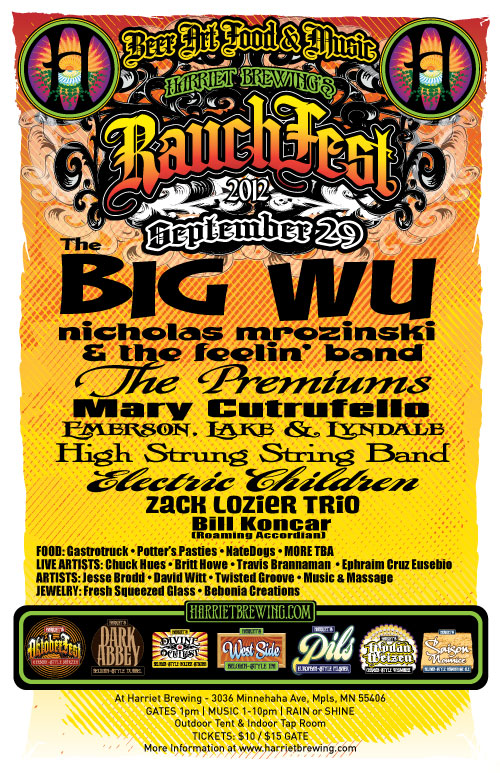 Harriet Rauchfest – September 29th, 2012. Rauchfest is a one-day festival of beer, food, art and music. Music includes The Big Wu (heard of 'em?),  Nicholas Mrozinski & The Feelin' Band, Mary Cutrufellow, The Premiums, Emerson, Lake & Lyndale, Electric Children, High Strung String Band, Zack Lozier Trio, Bill Koncar and others yet to be announced.

Beer? Yes, of course! Rauchfest is a single batch beer –  a smoked Oktoberfest. Harriet also plans to reintroduce their other cold-weather beers: Divine Oculust and Dark Abbey, serving up atotal of eight Harriet beers. They'll also have food and non-alcoholic beverages from  Gastrotruck, Natedogs & Potter's Pasties.
Art? Yup. Check. Chuck Hues, Britt Howe, Travis Brannaman and Ephraim Cruz Eusebio will be painting on site and from the site of it, art from Jesse Brood & WITT will be on site as well.
Tickets? GA tickets are $10 in advance and $15 at the gate. You can buy tickets online here or at the taproom. Enjoy!