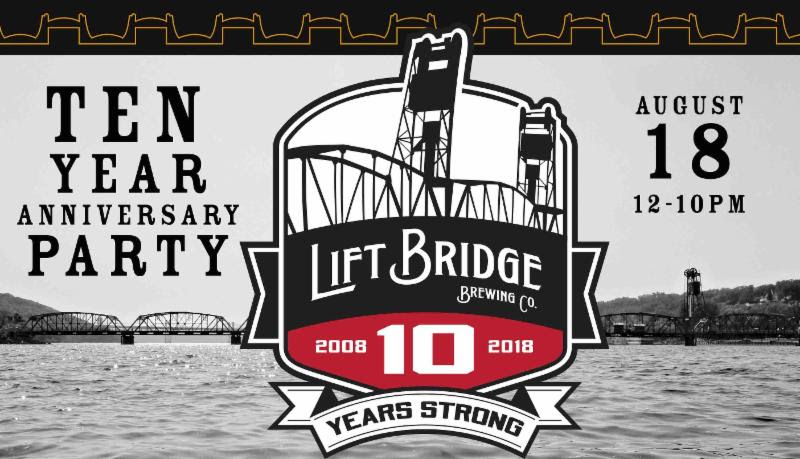 Ten years is a long time in craft beer years. Though Lift Bridge doesn't pre-date this site, they've still been around the proverbial block.  Lift Bridge was one of three breweries to open in 2008. Previous to that, Minnesota saw one new brewery in 2007 and one in 2006. Things have changed a bit, haven't they? When they launched, they brewed their beer at Jeff Williamson's Flat Earth location. In 2019, they'll be brewing at a brand new location in Stillwater.
This weekend you can raise a Farm Girl (or your favorite LB beer) to the fine folks at Lift Bridge in celebration of their 10 Year Anniversary. The bash runs from noon-10pm on August 18th and will include food, music, axe throwing, giant yard games, hammerschlagen and a beer dunk tank, among other things.
Beer Lineup:
93X Brotherhood
Crosscut IPA
Getaway Pilsner
Hop Dish IPA
Hazy McHazeface
Mango Blonde
Barrel Aged Silhouette 2015
Barrel Aged Silhouette 2017
Commander 17
Wee Heavy
Farm Girl Saison
Irish Coffee Stout
Mini Donut Cream Soda
Root Beer
Minnesota Tan 2015
Chardonnay Barrel Aged Farm Girl
Okotberfest
Mango Slushies
You'll also want to check out their 10 year twist on Farm Girl. "From the pop of the cork, the bubbly pour, to the effervescent tingle on your tongue, champagne yeast and bottle conditioning make this truly a celebration of our past, present, and future."
Tickets are $7 on Eventbrite and $10 at the door. Tickets include a beer token or two soda tickets. Kids welcome until 7pm.