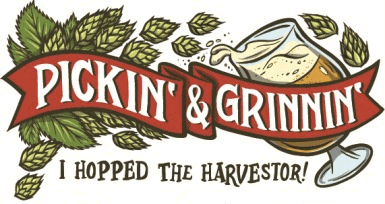 A number of years ago, when the thought of an actual physical brewery in Stillwater was only in the planning stages, Steve (perhaps with the aid of a few beers) described this event to a T. Go figure. In any case, as fall comes upon us, Lift Bridge's Pickin' and Grinnin' is also upon us.
On Friday, September 7th from 5-8pm you can help lend a hand at the brewery by helping to pick hops off the bines and dump them straight into the this year's Harvestor, Lift Bridge's fresh hop brew. You'll be picking locally-grown hops from Forest Lake's Hippity Hops Farms. Live music and plenty of beer as well. The event itself is free, but you still need to register with their online ticket system.
From 9-midnight, $8 (advanced) or $10 (at the door) gets you your first beer and music from Pat McCurdy. 21+
This should be a great time. I'd recommend buying tickets in advanced as last year's event sold out.