The Scott County Historical Society has put together some great fundraisers with craft beer over the years, and this year's event is no exception. The event features beers from Badger Hill Brewing, Enki Brewing, Lucid Brewing and Waconia Brewing as well as great appetizers and a presentation from "Land of Amber Waters" author Doug Hoverson. Read on for more information!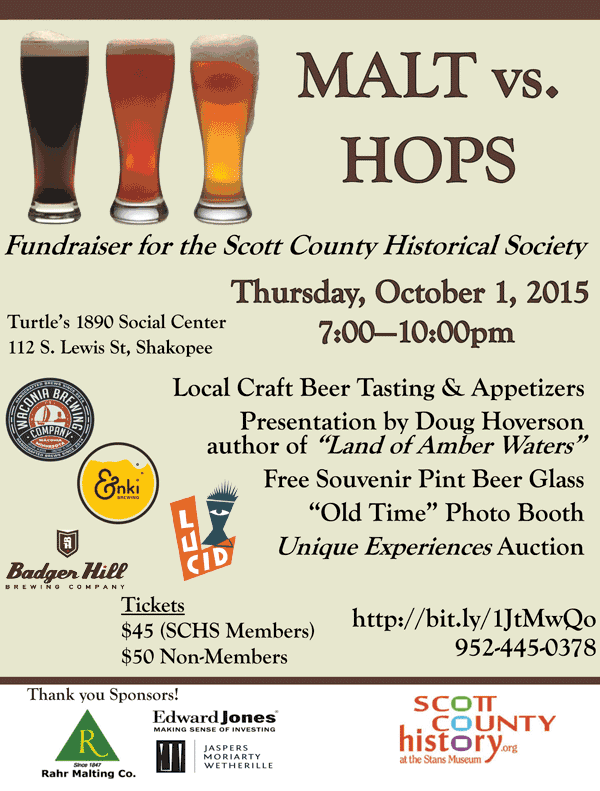 Date: Thursday, October 1, 2015
Time: 7:00 – 10:00 p.m.
Event website: Malt Vs. Hops
Tickets: http://bit.ly/1JtMwQo

Additional info:
Four breweries offering local beer tastings – Badger Hill Brewing (Shakopee), Enki Brewing (Victoria), Lucid Brewing (Minnetonka) and Waconia Brewing (Waconia).
Here are a few of silent auction experiences:
1 hour flight of Scott County noting historic sites
Private guided tour of St. Paul's Historic Union Depot by John Diers (author of the history of Union Depot)
Guided tour of ScottCounty historic brewery sites
Champagne behind-the-scenes tour of SCHS with the curator