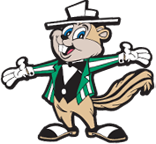 Happy Thursday, or as I used to say when I worked on Energy Park Drive, "Oh shit." Today mark the first day of the Minnesota State Fair in St. Paul. Aside from the traffic, I've always looked forward to the fair. Over the course of fair, we'll make suggestions for you on a regular, if not daily basis.
Thursday, August 23rd:
Visit the Ballpark Cafe for a first taste of Pour Decisions' Pubstitute, a Scottish session ale. This is the first public tapping of a Pour Decisions beer. It's been a long time coming!
Check out the Minnesota Craft Brewers Exhibit in the Ag. Building. Do not argue with 4H students. They are smarter than you… Instead, grab a beer flight (or four) and peruse the exhibit. Four 5 oz. beers will set you back $8. (See below for today's flight info.) From what I gather (correct me if I'm wrong… I know you will…) with the event schedule, there aren't set speakers for Thursday.
Make out with a pretty girl or boy in Ye Olde Mill.
Don't get a yardstick, you're better than that.
Today's beer flights in Land of 10,000 Beers:
HOPPY:
Brau Brothers SheepHead Ale
Summit Extra Pale Ale
Lake Superior Black IPA
Steel Toe Size 7 IPA
LIGHT:
Finnegans Blond Ale
Steel Toe Provider
Schell's Pilsner
Brau Brothers Old 56
BELGIAN STYLE/SWEETER:
Lift Bridge Farm Girl Saison
Boom Island Silvus Pale Ale
Flat Earth Bermuda Triangle
Surly CynicAle
DARK:
Brau Bros Moo Joos Oatmeal Milk Stout
Surly Bender
Mankato Stickum
Schell's Dark
To keep up to  date with Minnesota Craft Brewers Guild events, speakers, flights and other fun things at the Fair, be sure to follow @mncraftbrew on Twitter and check out their Facebook page!