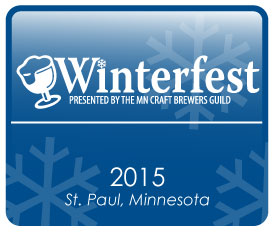 Today at noon is your first chance to get your hands on 2015 Winterfest, All Pints North and Autumn Brew Review tickets. All of these festivals sell out, but as you know Winterfest and Autumn Brew Review tickets disappear at a blinding pace. $200 gets you a ticket to both nights of Winterfest (Feb. 27 and 28), All Pints North (July 25) and Autumn Brew Review (September 19th). Point your browser here and have at it: www.tempotickets.com/mcbg
Your next chance for Winterfest tickets will be next Monday, January 12th at noon. On the 12th, you'll have a chance to buy tickets for both nights of Winterfest for $135. Single tickets will go on Sale on Friday, January 16th at noon. Mark your calendars. Tickets are $75.
In case you haven't heard, the Guild is changing up Winterfest a bit this year. To accommodate all of the breweries and beer fans, the festival will be spread out over the course of two nights – February 27th and 28th. The festival will remain at Union Depot and will run from 7-10pm each night. As per usual, this event will feature beers brewed in Minnesota by current Minnesota Draft Brewers Guild members. They'll also offer up food, beer education, entertainment and music. Each night will feature a different set of breweries, with a few "best of the fest" winners that will appear both nights. Details about which breweries will be appearing each night are forthcoming.