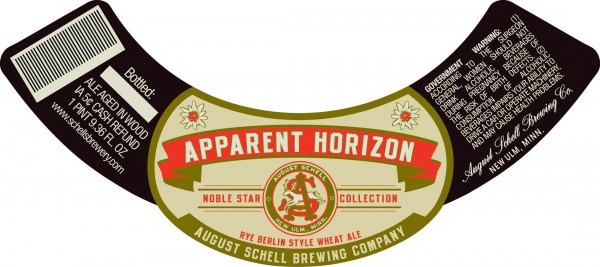 To be frank, I've really been digging the Noble Star series of beers from August Schell. From the first offering to the very latest, I've really enjoyed the various takes on Berliner Weisse beers. So if you're like me, you're curious as to what's next. We hid in the bushes outside of Jace Marti's home with out paparazzi friends and ambushed him, begging for answers, TMZ-style. Here's what we learned….
The next beer in the series will be called Apparent Horizon. It's another experimental take on a Berliner Weisse brewed with 35% rye malt. This beer will be a slightly stronger "Vollbier" (full beer) strength Berliner Weisse. After a mixed primary fermentation with yeast and lactobacillus, the beer was transferred to one of Schell's 1936 Cypress Works lagering tanks. Then a culture of brettanomyces was pitched into the beer for a long, slow (9 month) secondary fermentation.
Jace says that the resulting beer is a complex, spicy version of a Berliner Weisse, featuring a moderate, but balanced acidity with notes of lemons and cider. He says that the rye lends a spicy dryness with an aroma not unlike sourdough and pumpernickel.
Deets:
11˚P OG, 5.1% ABV, 5 IBU, 0.75% Total Acidity
Malts: Pilsner, Wheat, Rye, Cararye
Batch Size: 60 bbls
Availability: 750ml Bottles, Draft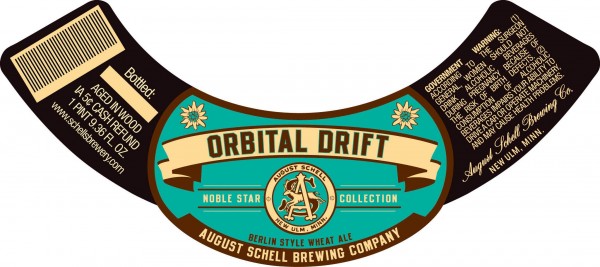 Further down the road you'll see the next beer, Orbital Drift. With this beer, Schell's brewed a traditional strentth Berliner Weisse, but substituted out all of the pale malts with darker malts to give the beer a reddish-orange hue and more of a malty backbone – atypical for a Berliner Weisse. We'll learn more details about this beer as it continues to develop. Suffice to say that we'll be curious to taste it when it's ready.