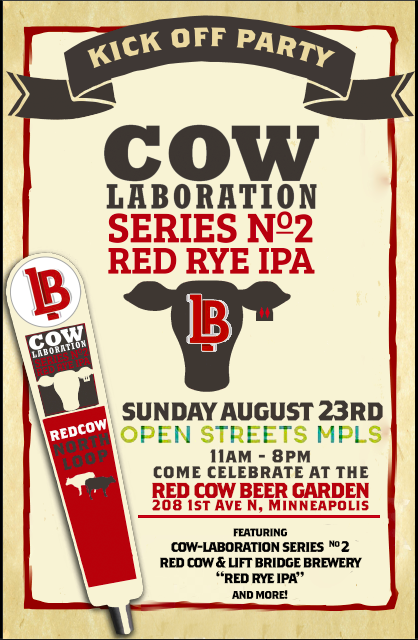 We love collaborations. Hell, we're even down for "cowlaborations," provided that the brewers keep our bovine friends out of the mash tun. (In a bun, of course, is just fine.) In any case, here's just such a cowlaboration: Red Cow and Lift Bridge Brewing Co., are teaming up for a special beer release this weekend, the second beer in Red Cow's Cowlaboration Series – Red Rye IPA.
Those of you playing along at home may recall the previous Cowlaboration, a session Red IPA brewed in conjunction with Odell.
The beer comes as a colla… er cowlaborative  effort from the Lift Bridge brewers, Red Cow owner Luke Shimp and Red Cow's go-to beer guy, Grant Fabel. We're told we should expect a beer with "a slight spice and peppery nose, rustic earthiness, undertones of citrus (grapefruit) hops and fresh cut pine with a light caramel and toast notes, yet not sweet. It's soft on the palate, medium dry finish with light zest, and color is a rich amber-copper, reddish hue with an ivory head."
Thirsty? The folks at Red Cow suggest that it will cut through sweet foods and accentuate the heat profile with spicy offerings. They like it paired with the 60/40 Burger, the Brooklyn (double patty in-house ground meat w/bone marrow, white American & crispy leeks) and Ahi Crisps. Gah. Thanks. Now I'm hungry, too.
If you want to get your hands on this beer, visit Red Cow's North Loop location this Sunday (August 23rd) during Open Streets Downtown Minneapolis celebration. Red Cow will host a beer and cocktail garden in a nearby parking lot on the corner of 1st Ave. and Washington, from 11 a.m. to 8 p.m., with food, yard games, DJ music and of course, tasty cold beer. In addition to the new Red Rye IPA, Red Cow will also serve up 60/40 sliders, Double Barrel (two patties), Chips-n-French Onion Dip sliders, cocktails, Lift Bridge Farm Girl, Lift Bridge Hop Dish and Odell Easy Street Wheat. All beers will be available for $5. For more details, visit www.redcowmn.com.