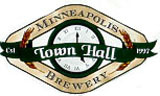 It's not too early to start thinking about your plans for New Year's Eve. Town Hall is offering a four-course dinner accompanied by two glasses of beer or two glasses of Mont Pellier. Here's the menu:
Soup: Lobster Bisque

Salad: Tempura Battered Tofu Salad – Coconut tempura battered tofu, mandarin oranges, and fresh raspberries served over mixed greens with raspberry vinaigrette

Entrée (Your Choice of one of the following):
Pasta Carbonara (vegetarian option)
– Kalamata olives, peas, cucumber, are sautéed in roasted garlic olive oil, tossed in linguini, topped with feta cheese and plumped sun dried tomatoes
Pan Seared Hawaiian Ono
– Pan seared sea bass with a parmesan and pistachio crust served with a red pepper coulis, broccolini, and heirloom potatoes
Wild Rice Stuffed Pork Chop
– Wild rice, dried apples, and cream cheese stuffed pork chop topped with a salted bourbon caramel sauce served with broccolini and heirloom potatoes

Dessert: Stout lava cake – Chocolate sponge cake served warm with a Barrel aged Czar Jack chocolate sauce center
Cost: $55/person (excludes tax and gratuity)
Reservations are required and can be made at Town Hall Brewery or by calling them at 612-339-8696.