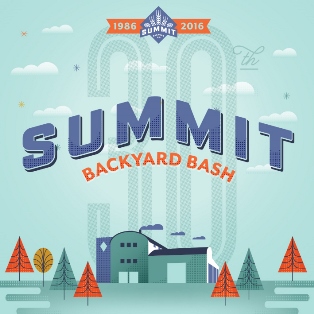 Summer may be coming to a close, but in the beer world there is still plenty going on. Here are some notes from around town.
Summit Brewing is hosting Backyard Bash on Saturday, September 10th which will also commemorate 30 years of making beer in St. Paul. Local legend Bob Mould will be headlining the event with his guitar shredding skills and Summit will be pouring a couple of legendary beers. Great Northern Porter and Summit EPA. Stay tuned for our piece coming next week with some insight from founder Mark Stutrud himself. Tickets will cost $30 and can be purchased at Electric Fetus Minneapolis, the Summit gift shop, or right here on the interwebs. The event runs from noon until 8 PM.
SurlyFest, Not-a German-Style-Oktoberfest-Bier is now available in stores in all of their markets. This year, the event will take place on September 24th at the destination brewery. This year the party will not require tickets and it's expected to go for 11 hours. There will even be German inspired food for purchase. Music will go from 11 am until 9 pm and will feature The Red Daughters, The Gleam (with Surly lead brewer Ben Smith), and Shannon Blowtorch. Check their site for packages that include commemorative steins, t-shirts, and VIP access.
One of our favorite food trucks is opening a small takeaway spot located inside of Sunny's Market in Northeast Minneapolis. Bark and the Bite will be serving favorites from the food truck along with a few new surprises (please serve your ribs…) that chef Noah is cooking up. They will open next Friday and Saturday and they plan to extend their hours in the following weeks.
I'll be making an appearance tomorrow on Dara Moskowitz Grumdahl's radio show called Off The Menu—which airs on WCCO live from the fair at 11 AM. We'll most likely be chatting about all of those gimmicky beers at the fair.
That's all for now.