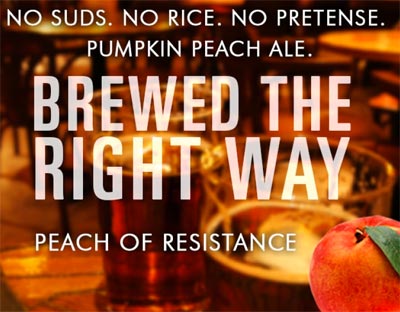 Here's a thumb to the nose for Budweiser's silly ad that picks on craft beer.
Northern Brewer has introduced "The  Peach of Resistance Pumpkin Peach Ale" as a homebrew kit. "No suds. No rice. No pretense."
The recipe is designed to feature faint pumpkin spice character, a malty body and lots of peach in the nose. Do you need to brew this beer? Click here.
Beer Personality:
Stands for innovation and experimentation and the ingenuity of the craft brewer
An unlikely combination of flavors that works together because its brewed the right way
Opposes sameness and conformity in brewing
Proudly an Ale, rather than mere "golden suds"