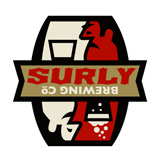 Hey Chicago, Minnesota is throwing you a bone (again). Starting November 18th, select bars and retail accounts will give you a chance to once again get Surly. Surly Brewing Co. will be rolling out the barrel in Chicagoland and offering Furious on draft as well as Bender, Coffee Bender, Furious, Hell, Cynic and Overrated! cans at the retail level. Surly has ramped up production at their current facility in Brooklyn Center to accommodate Chicago fans – be sure to thank your brewers.
Read the complete press release below:
Chicago is About to Get Surly (Again)
Brooklyn Center, Minn., Nov. 7, 2013 – After limiting distribution the last several years to focus on demand in its home state of Minnesota, Surly Brewing is amping things up in Chicago again by adding accounts at the bar and retail level.
It's been a busy year for Surly. The brewery has been expanding as fast as possible in its current location before the planned opening of its new Destination Brewery in Minneapolis, which broke ground last week. Surly has almost doubled its bar and retail accounts in Minnesota since this summer. The brewing schedule has increased as equipment has arrived, and Surly's brewers are working almost around the clock at its current location in Brooklyn Center.
Since pulling back beer from out-of-state markets, Surly has been focused on satisfying demand in Minnesota. For the last couple of years, Surly has been exclusively available in Minnesota. Previously, Surly was available in Wisconsin, the Dakotas, and the Chicagoland area. Being just a year or so from brewing beer at the new, much larger facility, Surly's plans call for ramping up and moving back into some of its former markets while the new brewery is built. Chicagoland is first on that list. After the new brewery opens, with production increasing by almost four times what it is now, the plan is for Surly to expand into specific national markets.
Starting Nov. 18, Surly will be available at a limited amount of bar and retail accounts, which are currently being determined and will be listed on the brewery's website. To start, for the bar accounts, Surly Furious will be available on draft. An assortment of cans, including Bender, Coffee Bender, Furious, Hell, Cynic, and Overrated! will be available at the retail accounts.
With construction started on the new brewery and a more firm timetable for beer to be flowing at the new brewery location, Surly is excited to focus on the path ahead, expand its footprint in Chicagoland and return to a market that has been passionately supportive.