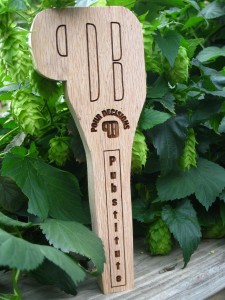 How about some Pour Decisions? This week, Pour Decisions is celebrating around the metro, releasing The Pubstitute and The Patersbier at a variety of venues with giveaways, pint & food specials and more fun. Read on for details:
9/10 – Monday – Stout's Pub – Roseville – 5pm
Sitting on the north side of Larpenteur ave, just off UMn St Paul campus, Stouts is an up and comer in the Roseville beer scene. We'll have both beers on tap and importantly it's the first time you can get The Patersbier ANYWHERE and it's right in our own Roseville backyard. There will be pint and appetizer specials for most of the evening. Be the first of your friends to try the Patersbier!!

9/11 – Tuesday – Muddy Waters – Minneapolis (Lake/Lyndale) – 4:30pm
For those that haven't been to Muddy's, you are missing out! They have excellent coffee and superb food but the beer selection, thanks to the beer chops of Paddy Whelan, is one of the best craft  selections in the Cities. They'll be doing a pint and a bite special where they will be custom making one of their famous specialty dogs to go specifically with the Patersbier. Pint in one hand, dog in the other. Repeat, ad nauseam. Then do it all again!

9/12 – Wednesday – Stanley's Bar Room – Minneapolis (Northeast) – 5pm
For those in the know, Stanley's is the place in the Northeast to go. Stanley's, in the former Stasiu's Bar, have kept the famous urinals but went gang busters with the phenomenal food and craft beer selections. For our release Stanley's has come up with some great pint and food specials including both of our beers and their delicious sliders and ungodly awesome smoked brisket nachos! To add a little more fun to the mix, BJ considers himself the 'king of bags' so if you are up for it, challenge him to a toss off on the patio! You might be able to win a beer off him!!

9/13 – Thursday – Lone Oak Grill –Eagan– 5:30pm
The newly opened Lone Oak Grill (in the old Joe Sensor's building) is quickly becoming the new go-to craft beer place in the southeast metro. Lone Oak Grill has a wonderful tap selection of which they will be serving both of our beers. Did we say that The Pubstitute goes great with a nice bourbon on the side? Well it does and boy does the Lone Oak have a great bourbon selection!! May we suggest the Knob Creek Single Barrel? The Pubstitute does a great job of cutting the cask strength deliciousness! There will be food and pint specials plus a little competition. Have you seen the bocce pitch!? Want to win a free pint? See if you can beat Kristen rolling the stone balls as there definitely will be some Bocce vs the Brewer action going on!

9/14 – Friday – Grumpy's Bar – Roseville – 5pm
At less than a 5 minute walk from our back door, Grumpy's is literally our 'backyard' pub. We'll be walking the ceremonial first keg poured at Grumpy's from the brewery, right to the Grumpy's cooler. There will be food and drink specials and again, if you feel competitive, we're sure you can talk BJ and Kristen into a little pool, darts or bags…quite sure actually. You might even win a beer off them!