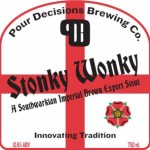 Pour Decisions latest is Stonky Wonky, a "Southwarkian Imperial Brown Export Stout." Rather then tryt o describe it, we'll let them do so:
Back from the dead, the beast of all beasties. The ORIGINAL Russian stout. Announcing, for the first time in the US, THE Imperial Brown Export Stout. IBSt Export. The granddaddy of all Russian stouts. Thrale brewed this baby for Catherine the Great. Thrale's was bought by Barclay Perkins and they made their Russian Stout world famous. Our take, Stonky Wonky, has a smidge over 10% abv with 10 pounds of hops per barrel making this a powerful delicious thing. Espresso, cocoa, dark dried fruits and deeply toasted bread. Dark chocolate truffles and rum raisins. A smooth, rich, elegant velvety depth-charge of a drink.
Look for it tonight at Winterfest or starting tomorrow in their taproom. Enjoy!