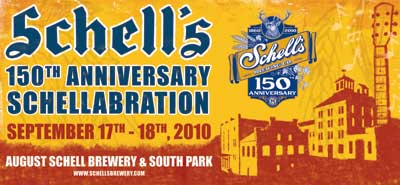 Lots of cool news coming out of New Ulm surrounding August Schell's 150th Anniversary Schellabration with fun on September 17th & 18th both at the brewery and the nearby South Park and will include music, tasting and more fun. Look below the fold for complete details.
Other news:
The newly installed fermentation tank is up and running, and they should be getting their first batch of Grain Belt from it shortly.
The first batch of Oktoberfest has been bottled and kegged, and will be out on shelves in mid August- had a few bottles already and it is fantastic.
Finally, they will begin tiling the new filter room soon as construction/renovation of the old cellar room moves along. The new filter is already in, and they're hoping to have it operational by this fall.
Full press release below the fold.
A Celebration to Salute 150 Years of Brewing.
Schell's Brewery is Throwing the Celebration of the Century… and a half.
New Ulm, Minn- August 2, 2010. Schell's Brewery will be throwing their Anniversary Celebration the weekend of September seventeenth and eighteenth to commemorate reaching one hundred and fifty years of brewing.  They will be hosting a dual festival, with events occurring on the brewery grounds as well as in South Park, located right outside of the brewery.
The brewery will be open from 11am to 5pm on Saturday, September 18th.  Admission to Schell's Park and the events held on the Brewery grounds is free.  It will consist of free behind-the-scene tours and tastings.  Participants will be able to see areas of the brewery not on the normal tour.  In addition, when participants complete the tour, they will be able to sample Schell's line-up of award winning beers.  ID's will be required for tasting.  There are no set tour times, but will run constantly all afternoon.  Demonstrations will also be featured at the brewery to highlight what all goes into crafting Schell and Grain Belt beer.  In conjunction with the tours and demonstrations, there will be a German concert, German food, and Schell's beer located on the brewery grounds.  During the afternoon, the New Ulm Battery will give a canon salute to Schell's 150th Anniversary. The band line-up includes local favorites such as the Schell's Hobo Band, Alpensterne, Peter and Paul Wendinger, and the Concord Singers.
In conjunction with the festivities at the brewery, Schell's will be hosting a two-day outdoor concert in New Ulm's South Park. The concert will begin on Friday, September 17.  Gates will open at 4:00pm and bands will play from 5pm to 11pm.  Friday night's band line up includes; the Bock Fest Boys, Mark Starry and the Whiskey Roses, Brandon Scott Sellner, and headlining is The Johnny Holm Band.  The concert will continue on Saturday with the gates opening at 11am and running till 11pm.  The day will begin at noon with a Color Guard presentation by the Minnesota National Guard 1st Battalion 125th Field Artillery-Red Bulls and will be escorted by the Minnesota Police Pipe Band.  After the colors presentation we will continue with a full day of music featuring; The Concord Singers, Alison Scott, Lamont Cranston, the Bratwurst Brothers, White Iron Band, and headlining is GB Leighton.  More information about the bands is available on Schell's website, www.schellsbrewery.com.  In addition to the concert, there will be a Schell's Beer Garden in South Park featuring Schell's collection of craft beers. There will also be food vendors, and other Schell bars on site.
Schell's 150th Anniversary Celebration will go out with a bang, literally! There will be a fireworks display for the grand finale of the event, helping to salute this milestone in Schell's history. Please note, lawn chairs are permitted onsite, as no seating will be provided. Coolers, blankets, and pets are not allowed.  This event is on rain or shine!
Advance tickets will be available for the South Park concert.  Only weekend passes are being sold in advance.  They are $20 and will grant you admission to South Park on Friday and Saturday. Tickets will go on-sale beginning August 9th.  For the first week, tickets will only be available for purchase at the Schell Gift Shop in New Ulm, MN. On August 16th, tickets will also be available for purchase online.  Please note that advance tickets are limited.
Schell's will also have individual day tickets for sale at the gate the weekend of the event.  Gate prices for Friday's admission include; $8 for adults, $4 for kids, and six and under is free.  Gate prices for Saturday's admission include; $16 for adults,  $4 for kids, and six and under is free.   Schell's reserves the right to close the gate due to capacity.  To avoid lines and guarantee admission, advance ticket purchases are recommended.
Schell's will be posting more information on their website on August 3rd.  For more information on the event, please reference their website, www.schellsbrewery.com, anytime after August 3rd.