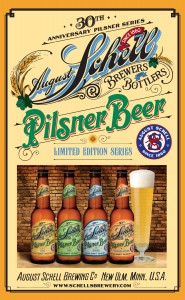 Today we learned that August Schell Brewing Company will be celebrating the 30th anniversary of Schell's Pils with a new series of beers in February. The 30th anniversary series will include four different pilsners – the original recipe from 1984, the current recipe and two new offerings – a Roggen and Mandarina Bavaria Pils. Expect those in variety 12-packs and for bars, 4x 1/6 bbl kegs.
It's great to see the "old timers" like Schell's embracing special release beers in their very own way. In the days of double IPAs and barrel-aged concoctions, it's often easy to forget that in the 80s breweries like Schell's were starting to buck the system and break away from mass-produced, homogenized  boring beer. In 1984 Schell introduced a traditional Bavarian-style Pilsner well before it was cool to be craft (or crafty?). Beer writer Michael Jackson called this beer "One of the best American examples of the Pilsner style."
The Roggen Pils will be a departure from a traditional pilsner with rye malt, Tettnang and Smaragd hops and the last beer in the series will feature a new German hop, Mandarina Bavaria, said to have strong tangerine and citrus notes.
I'm looking forward to this one – I've always liked Schell's Pilsner. I'm not surprised at the choice of beers – a few years ago at a Schell's event at Stub & Herbs, Ted Marti told me that Schell's Pilsner was his favorite Schell's beer. And speaking of favorite beers, one of my favorite Schell's offerings, Hefeweizen will be turning 30 this year as well and Schell's will be doing a special series in July as well.