OG 14 Plato
IBU 15
Do you love Dunkleweizen? How about rye beers? If the answer is "yes," you're going to want to get your hands on Schell's Anniversary Series #7- Roggenbier.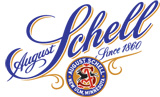 Roggenbiers are a German specialty beer originally brewed in Regensberg, Bavaria. They were quite popular at one time; these days, however, they are very rare.
Schell Roggenbier is fermented with Schell's very special Hefe yeast. The flavor profile is reminiscent of cloves, bananas, vanilla, a dash of chocolate, and the spicyness of malted rye.
The release date for Schell Roggenbier is July 5, 2009, commemorating the birthday of Al Marti, President of August Schell Brewing from 1934-1969.