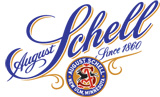 Go figure.
Schell Stag Series #4:  Burton Ale
OG  22 Plato
IBU  60
SRM 24
Before India Pale Ales were synonymous with Burton upon Trent, there was Burton Ale a darker, sweeter beer.  Burton Ales were so popular, in fact, that as recent as 1948, it was considered one of the four main types of British draught beer, sitting beside mild, pale ale, and stout.
More so than perhaps any other beer style in history, the demise of Burton Ales happened amazingly fast.  Brewers, faced with the consumer preference for bitters and lagers saw sales of Burton and mild ales plummet.  By the end of the 1960s Burton ales were virtually gone.
Schell's Burton Ale is a nod to a forgotten style of beer.  Using traditional floor malted Fawcett Maris Otter as a base, the malt bill also includes torrified wheat and two different British Crystal malts.  As is traditional for British brewers, we added sugar in the kettle, in our case turbinado and some Dark Candi Syrup.  Old Burton Extra is hopped with Nugget and Goldings, fermented with a British ale yeast, dry-hopped, and aged for 3 months prior to release.
Release: Sept 2011