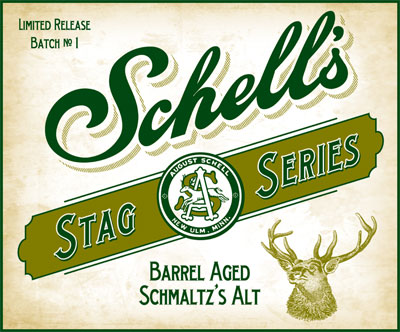 Jace Marti dropped me a line this morning to share a little information about Schell's new Stag Series. As you may know, Schell's has aged a portion of this year's Schmaltz's Alt in pinot barrels. They bottled this beer last week and it should start arriving on shelves sometime next week in select locations throughout MN. This beer is available in 22oz bottles only for the first release, 2600 bottles total.
Coming off the success of our 150th Anniversary Draft Series, we are proud to introduce the Schell's Stag Series. Drawing upon our 150 years of brewing knowledge, we are combining our experience, creativity, and curiosity with these new brews. The Stag Series is collection of innovative and experimental, limited-edition beers to be released periodically throughout the year.

For the Stag Series first release, we took our Schmaltz's Alt and aged it for six months in French-oak, Pinot Noir wine barrels. This beer is dark, ruby-brown in color with a creamy tan head.  It smells of dark cherries, vanilla and chocolate. The taste has an initial, slightly tart, dark cherry flavor which gives way to sweet malty chocolate body with a nice mellow vanilla oak flavor in the background. This first release will only be available in 22oz bottles. Look for the Stag Series to arrive on shelves beginning in May is select stores throughout Minnesota.

STATS
• Original Gravity: 1.056/13.8o Plato
• 5.1% Alcohol By Volume
• 28 International Bitterness Units
• 40 SRM

BATCH SIZE
• 17 US Barrels
• 2600 22oz Bottles.