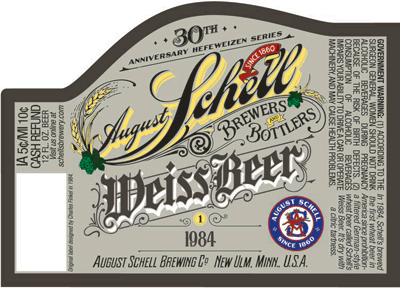 This year marks the 30th anniversary of Schell's Hefeweizen hitting the market. To celebrate, they'll have 4 different variations of hefeweizen in a limited edition 12 pack and on draft. I asked Schell's Jace Marti for a bit of insight on the series and got some good information as well as a cool story:
I was at the Craft Brewers Conference 2 years ago, and met Bob Brewer from Anchor Brewing Company (what a perfect name for the brewing industry) who has worked there I believe since the beginning. He said that Anchor had always claimed to have brewed the first wheat beer in America, but he wanted me to double check because of when ours came out. I went back and check our records, and  on July 17th, 1984, we brewed our first batch of "Weiss Beer." And by an unbelievable coincidence, and completely unknown to each other, Anchor Brewing brewed theirs on the exact same day! The first two wheat beers brewed in America since prohibition were both brewed on the same day and neither one of us knew it till recently. I will say though, that we mashed in the night before and knocked out the next morning, when the brew sheet would have been filled out, so technically….
Beer details? Yessir… The first beer is the original 1984 Kristal Weizen recipe. Back in 1984, this was a huge departure for Schell's. So different, in fact that they had to have Briess custom malt the wheat! They also worked with Briess to bring in an authentic Hefeweizen yeast strain from Germany. At the time, the yeast wasn't available in the US and there were no yeast banks to use as a source, either. The beer was "krystal" clear, deep golden in color, 4.6% abv and 6 IBUs.. Suffice to say that this was a radical departure from Schell's Deer Brand and anything else available in the US. Who you callin' crafty?!
The second beer is Schell's current Hefeweizen recipe. This beer is a traditional, unfiltered Hefeweizen made from Wheat and Pilsner malt and features the  classic banana, clove and nutmeg yeast characteristics. 4.75% abv, 15 IBUs.
The third beer was one of my personal favorites from the 150th Anniversary Draft Series, Dampf Bier. This is an all-barley beer, made with a Hefeweizen yeast strain. This beer is brewed with 2-Row, Vienna, Caraviena and a touch of
Midnight
Wheat. This beer is 4.9% abv, 18 IBUs, and is filtered to show off the deep amber color.
Lastly we have a Weizen Bock. This beer is brewed with just wheat and Pilsner malt, and features a new French variety of hops called Triskel. This beer is heavily hopped late in the kettle and dry hopped with Triskel to bring out the fruity, floral, pineapple notes of the Triskel hops for a hoppy wheat beer experience. 6.5% ABV, and 35 IBUs.
Schell's just bottled and kegged these beers last week, so look for them on the market in the next week or so.