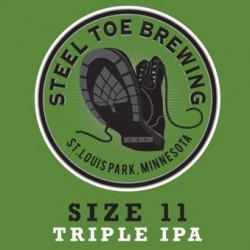 …call me a cab. Steel Toe Brewing's Size 11 Triple IPA returns starting with a release party at Muddy Waters on Wednesday, May 15th starting at 6pm. If you can't make that, it'll be available at the taproom starting on Thursday (3-8pm).
And on that note, you may as well plant your ass in SLP as on Friday, May 17th they'll have some special barrel-aged beers on tap for your imbibing pleasure. How does barrel-aged Dissent, barrel-aged Wee Heavy and a little Lunker sound?
Need a bottle of Size 11? Saturday is your day… Steel Toe will have 750ml bottles of said beer ready for you to buy at noon on Saturday. Cheers!