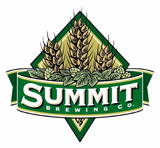 Remember that time that I guessed Summit Unchained #11 might refer to Minnesota's Old Highway 152
that stretched between Minneapolis and St. Cloud? As luck would have it, I was incorrect. Old 152 is also
the official steam engine of the state of Kentucky
.
Today
Summit Brewing Co.
officially announces the release of Old 152, the eleventh beer in its Unchained Series. Old 152 was created by brewer Eric Harper, who also created
Unchained #4
, Belgian Style Golden Ale. It will be available in draught and bottles the week of Oct. 22.
"This Unchained beer is based on Kentucky Common, a popular beer style in and around Louisville pre-prohibition," said Harper. "The style disappeared after prohibition in favor of the lagers that we're familiar with today. Old 152 will feature Cluster hops, one of the only hop varieties available in the U.S. in the late 1800s and early 1900s."
"The beer pours a chestnut color with a slight haze and exhibits flavors of biscuit, toast and rye. Kentucky Common beers traditionally feature a "sour mash," also used in the process of making another Kentucky staple: bourbon. Old 152 itself will not be sour but will feature crisp, caramel notes and a clean bitterness."
To clarify, brewing this beer does employ a sour mash.
Old 152 Stats:
AVB: 5.8%
IBU: 55
Color: Chesnut
Hops: Cluster, Northern Brewer (Dry hopped: Cluster)
Malts/Grains: Pale Malt, Victory®, Crystal Medium, Rye Malt, Distillers Malt, White Wheat, Maize
Eric Harper will attend a series of special kick-off events for Old 152, including:
Oct. 18: Beer Dinner – Kincaid's in St. Paul, 6:30 p.m.
Oct. 23: Bean bag battle with Harper for Summit prizes – Sweeney's, 4-6 p.m.
Oct. 25: Beer Dinner – Gold Nugget Tavern & Grille, 7 p.m.
Nov. 14: Hunter's Dinner – Jax Café, time TBA