Summit has announce the release of another Unchained Series beer today. The 25th beer in the series will be a Vienna-Style lager, conceived by brewer Tom Mondor who also devised the 17th beer in the series, Fresh Harvest IPA. Three years later, Mondor is up to bat again with a beer said to be inspired by his travels through Germany. When is the last time you had a Vienna Lager? Aside from Schell's Firebrick and Fair State's Vienna Lager, I'm having a difficult time thinking of many other local offerings aside from an occasional appearance at The Herkimer back in the day.
Anyway, we haven't yet tried this beer, but if the words from our friends at Summit are on par, this beer will feature herbal notes thanks to Hallertau Mittlefruh and German Perle hops and no doubt some fine toasty/biscuity/caramely notes thanks to Weyermann's expertly crafted Barke Vienna and CaraFoam malts. German malts and hops, Austrian beer. Okay.
Mondor explains that he simply wanted to have a great Vienna-Style Lager to enjoy, noting that "the Vienna-Style Lagers still brewed in Mexico today aren't terribly representative of the original, as many are made with adjuncts like corn or rice. My goal was to use good ingredients, good processes, and good quality assurance to make a good beer." Fair enough.
If you want first pour on this beer, be sure to hit up the Summit Beer Hall next Thursday, June 29th. The release will feature Nails and Ales presented by the Germanic-American Institute, concertina music from Josh Eidsor and German food from the Black Forest Inn.
Look for the beer on draft and in 6-packs in early July.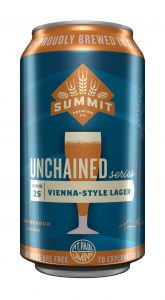 Nerdy Details:
ABV: 5.1%
IBU: 23
Color: Copper (12 L)
Malts: Weyermann Barke Vienna, CaraFoam
Hops: German Perle and Hallertau Mittlefruh
Yeast: Munich lager yeast