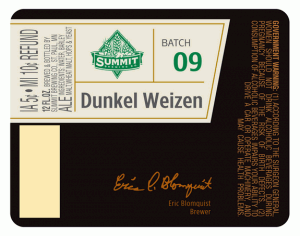 Sample some dunkel weizen from Summit's Unchained series with brewer Eric Bloomquist. We've already listed a few events, but here's the whole list for your imbibing pleasure.
Monday, March 5: Stout's Pub Beer Dinner, 6 p.m.
Tuesday, March 6: Live music and German food pairings at Hell's Kitchen in Minneapolis, 5-8 p.m.
Wednesday, March 7: Tasting at The Four Firkins in St. Louis Park, 6-8 p.m.
Thursday, March 8: Food pairings and "Beat the Brewer" dart tourney at The Hole Sports Lounge in Minneapolis, 7-9 p.m.
Friday, March 9: Burger Jones in Burnsville, 3-4:30 p.m.
Friday, March 9: Carbone's in Lakeville, 5-7 p.m.
Thursday, March 15: Tap takeover at Ngon Vietnamese Bistro in St. Paul, 4-6 p.m.
Friday, March 16: Tasting at The Cellars in Roseville, 4-7 p.m.