Here's the scoop on Summit's Kölsch that will be hitting shelves in July… Label art and all…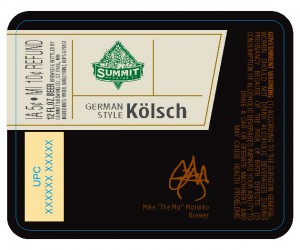 Summit will be releasing a Kölsch this July as part of their new limited run series called the Unchained Series.  The brewery will release 3 different styles a year, with very small runs of each beer.  Each style is helmed by an individual brewer-they get to choose the style and are in charge of overseeing the whole process, from recipe formulation to ordering raw materials.  The packaging will actually feature the brewer's name and signature.  The Kölsch is being brought to you by Brewer Mike "the Miz" Miziorko.  The focus of the series is to showcase our brewers' talent and creativity, as well as to brew some styles that may be underrepresented in this market.  The Unchained Series will be available in 6-packs and on draught.

PS-the label says German Style Kölsch because the TTB said it had to be labeled as such!