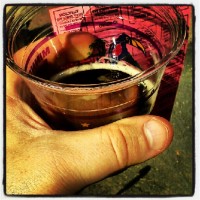 A quick suggestions: Go try Pour Decisions' Pubstitute at the Ballpark Cafe. Start early. This is a Scottish ale of sessionable proportions. Try it before you bomb your palate with hops, sugar and deep-fried food.While you're at it, check out some of the other great options. Its nice to see so many craft and local selections in one spot at the fair.
Today at the Minnesota Craft Brewers exhibit in the Ag. Building.

noon: Brewery Showcase – Third Street Brewhouse/Cold Spring Brewing Co. | Flat Earth Brewing
3:00pm: Starting in the 90s – Pete Rifakes, Town Hall Tap/TownHall Brewery
6:00pm: Brewery Showcase – Lucid Brewing | Mankato Brewery
Today's beer flights in Land of 10,000 Beers:

Flights are 4 x 5oz beers, $8. All flights are subject to change.
Not yet available
To keep up to  date with Minnesota Craft Brewers Guild events, speakers, flights and other fun things at the Fair, be sure to follow @mncraftbrew on Twitter and check out their Facebook page!