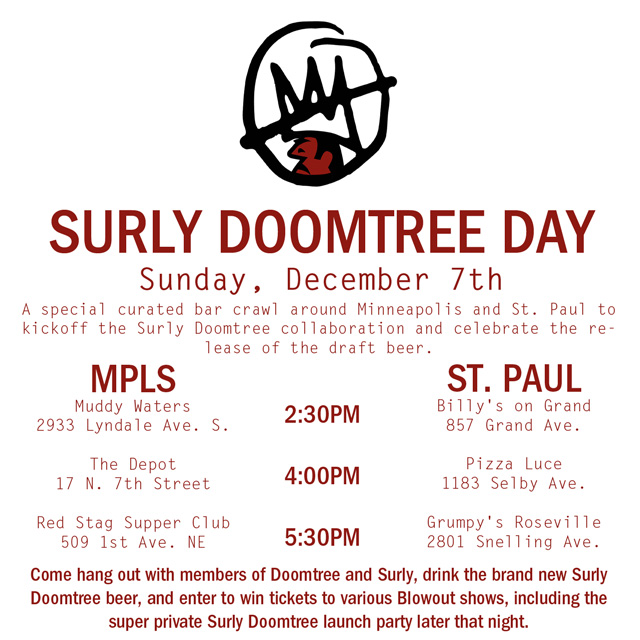 You wanted details on
Surly
Doomtree
Day? You've got Surly Doomtree Day info… As you know, Surly Doomtree Day will be a special curated bar crawl around Minneapolis and St. Paul to kickoff the Surly Doomtree collaboration and the release of the draft beer. Your friends from Surly and Doomtree will lead two busses of fans and friends on dueling bar crawls in St. Paul and Minneapolis, ending with a special invite-only Doomtree performance at an undisclosed location.
Yes, there will be opportunities to win tickets to that performance.
Dedicated Doomtree fans who purchased a full Blowout ticket pack will be joined by Doomtree and the gang from Surly. Didn't buy tickets? Fear not. You're encouraged to meet up with the pub crawl at various locations to try the beer and hang out. At each stop, they'll be giving away a handful of tickets for the exclusive show as well as some of the Blowout shows.
…and yes, you can still get on the bus. Of course you'll need to win those tickets. Keep your eyes on social media over the course of the next week or so for your chance to win.
Minneapolis bar crawl:
–
4:00pm
, The Depot Tavern
–
5:30pm
, Red Stag Supper Club
St. Paul bar crawl:
–
2:30pm
, Billy's on Grand
–
5:30pm
, Grumpy's Roseville
–
7:00pm
, Exclusive Doomtree Show (invite only)
…and as a side note, dare I speculate where the show might take place? Perhaps somewhere partway between Minneapolis and St. Paul? Like maybe a destination brewery? Inquiring minds want to know…
So much for that theory. I've been told that the brewery definitely won't host the show. It was a nice thought, anyway…