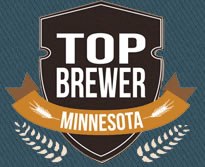 Description from Top Brewer: This event is a celebration of the local craft beer scene.  Never before has the community been brought together to choose what beer will enter the local market.  This event unites local breweries, beer lovers, homebrewers, and craft beer bars in one harmonious event, by showcasing each, and the contribution they make to our community.
Groveland Tap, October 11 & 25th – 6-9:30pm
Edina Grill, October 18 – 6-9:30pm
3 Squares, November 1 – 6pm-9:30pm
The event is 100% Minnesotan.  Taking place on Thursdays in October on scenic patios.
The brewer that will own the Top Brewer MN will be determined through a series of 4 qualifying events, which will be held at a different Blue Plate Group Restaurant. Each week 6 local homebrewers bring a beer to be judged; the winner of each week will be given ingredients courtesy of Northern Brewer and Brewer Supply Group to make a beer for the finals.
The Finals will be held at Lucid Brewing Company on February 2nd and the winner will be be known around Minnesota and beyond as TOP BREWER MINNESOTA.
Top Brewer MN will give local homebrewers an opportunity to be able to brew on a production scale brewing system with the gang at Lucid Brewing Company, help name the beer, and of course be apart of the promotional team through a series of events in March.
Each of the four events will be limited to 200 attendees and will cost fifteen dollars. Ticket will includes a complimentary Lucid beer of your choice, live music featuring local artists, and special pricing for Lucid beers as well as some food items paired specifically with the Lucid beers. For more information go to www.topbrewer.org