So much slay coming your way. HeatSlayer, a Kölsch-style ale featured in Surly's seasonal variety pack, is available now. Surly is even throwing a party for it this Sunday the 27th where, for the price of admission, you can get unlimited food and pours of this new beer. They're calling it Slay Day.
If that weren't enough, thrash metal legends Slayer are coming through town this week on their farewell tour. I've heard music and beer go well together, so let's review them both at the same time:
Surly HeatSlayer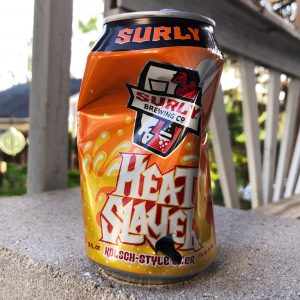 Kölsch-style ale
ABV – 5.0%
Thursday, May 24 – Slayer @ The Armory in Minneapolis
Sunday, May 27th – Slay Day @ Surly Beer Garden
Aroma: Bready and crisp. Really no indication that Slayer's been making music for nearly as long as I've been alive and this is their final tour.
Appearance: Pours a very light straw color and Tom Araya doesn't really headbang anymore which is interesting to see. Still, the show will be worth it; I hear the Armory is a great venue and Gary Holt really does Jeff Hanneman justice.  
Flavor: Consistent with the Surly approach, this is as hoppy as this style should get, without being overpowering. This makes it a nice complement to the variety pack in that it fits the theme, but definitely stands out from the other members of the Big Four – Hell (Megadeth), Xtra Citra (Anthrax) and Furious (Metallica).
Mouthfeel: Fine, I guess, but why worry? This is absolutely the least important feature to consider when shotgunning beers before a metal show.
Overall Impression: This is good, but "Raining Blood" will always be their signature track. Personally, "South of Heaven" is my fave. And to think, neither of those were what earned them Grammys.
Slayer is done after this tour and HeatSlayer is exclusive to the variety pack so get on both now.