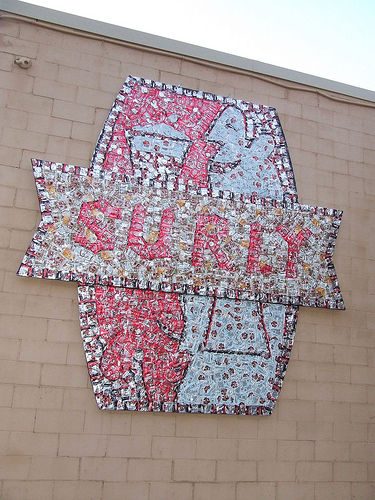 And Now for Something Completely Different
In terms of craft beer in Minnesota, Surly & MNBeer sort of "grew up" together, launching around the same time and watching the beer scene grow steadily. I'm sure some of you remember tasting their beers for the first time at Winterfest in 2006 (bonus: remember Omar with long hair?). Instead of detailing their very interesting past (which is much better heard at the brewery while enjoying a Furious anyways), I will be sharing the insights of Surly's president, Omar Ansari, about the plans for Surly's new destination brewery. I should say here that I first talked to Omar about his ideas for the new brewery while at an event to celebrate Surly selecting HGA Architects (my employer) to design it. While I may be biased about their choice of architect, this feature isn't going to be about the design, but about the concept, and of course, the beer.
A New Brewery the Surly Way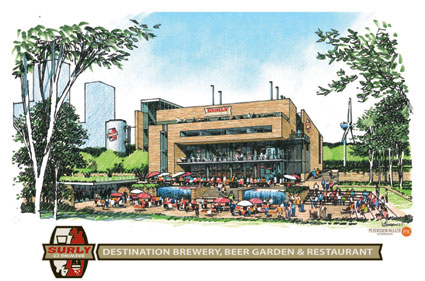 In May of 2011 the "Surly bill" was signed into law, allowing breweries producing under 250,000 barrels a year to sell their own beers on site. This law change cleared the way for Surly to begin planning their $20 million destination brewery, which will include a brewhaus, beer hall, restaurant, event center and an outdoor beer garden. The planning is still in the very early stages. Omar compared it to actually starting the brewery, "It's a slow process. This in many ways is much harder than building the brewery the first time around. The only people I had to convince then were my family and Todd, and then get the building ready. Now there are so many moving pieces. We have to work with the city, the county, architects, lawyers, bankers, land sellers and neighborhood groups. It's a much bigger undertaking. From idea to brewery the first time around it took 2 years. We started thinking about this in 2010 and we're shooting for opening the new location in 2014."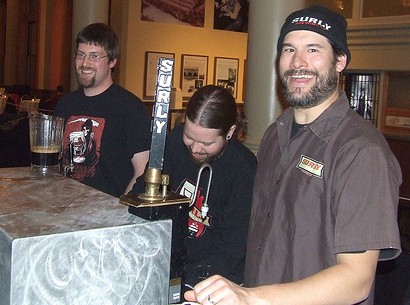 The big missing piece is the site location. So much of what the new brewery will be like is dependent on what site they have to work with. Though a Prospect Park location has received some serious attention as of late,  nothing has been finalized on this front yet. Omar simply joked, "People always have lots of thoughts on where the brewery should be. Usually it's within stumbling distance of their house." While it can't be in everyone's neighborhood, it's important to be located in a place that is densely populated and has easy access via public transit and on bike. Offers from many suburbs are attractive, but just don't fit with what they're trying to achieve.
He and Todd have always felt that this project would be urban. He talked about breweries around the country that have gone into depressed industrial areas and helped to revitalize their neighborhoods. They're having trouble finding a spot like that here. He explained the difficulty they're facing, "We need a certain size site and there just aren't that many spots available in Minneapolis, which is a good thing. The Twin Cities doesn't have these old vacant areas. Things are so developed."
Although the exact location isn't yet determined (which means we can all keep dreaming about it being in our neighborhoods for the time being), Omar shared some of the details about the new brewery that I'm sure MNBeer readers will find equally important. By this, I mean he told me about the plans for the beer.
Doing What's Best for the Beer

The new location will open with Surly's current line up, but he hopes to have 15 to 20 of their beers on tap in time. As production moves to the new facility, the Brooklyn Center location will be devoted to what he calls "wild" beers (he mentioned a barrel aged Darkness and it set my heart aflutter). It's no secret that Surly can't make enough beer right now. He explained, "The constant struggle is that everyone wants more Furious, but they also want more of the anniversary and specialty beers."
It's been inferred before that Omar has prevented Todd from being as creative as he could be. The reality is that in their Brooklyn Center location, there just isn't enough space to do all of the barrel aging and other creative brewing that they'd like to do. This will change when the new facility gets up and running. Having a 25,000 square foot facility for barrel aging and sour beers is a luxury that not many other breweries have. This is another indication that the Surly way of doing things isn't going to fall by the wayside with their new increased production capabilities.
In the past, Surly has tried to go into other markets and had to pull out because they were having a hard time meeting demand. With an increase in brewing capacity of 100,000 barrels a year they could try to reestablish themselves in those abandoned markets, but that isn't necessarily what is best for the beer. He emphasized the importance of meeting local demand, "We're brewing all the beer we can brew. We're going to have to make enough to meet Minnesota demand first and it's hard to know what exactly that is at this point. So if this doesn't get us back into those markets, I guess we never will. There's only so much you can do to grow."
One of Omar's chief concerns about the increase in production was whether they'd be able to get enough raw materials. He assured me that they were able to secure contracts for their ingredients, "Getting those particular hops contracted was important. And if we didn't, we're building this big facility and what would we brew? We were able to lock that down, so we'll be able to grow with the brands that folks know and love and maybe even make some of the smaller ones bigger."
Speaking of ingredients, Surly's fresh-hop beer, Wet, recently hit the market. This is Omar's favorite Surly beer and he explained why, "it's a delicious beer and a lot of work goes into it. We had two tanks fabricated just to make it. It's an unbelievably laborious process. We don't sprinkle a little bit of hops on it; all the hops are wet hops. It doesn't necessarily make a lot of sense in many fashions, but it embodies the way we do things." Whenever Omar and Todd are confronted with a decision, they always bring it back to what is going to make the best beer.
Going from the new kids in the Minnesota beer scene to veteran brewers making some of the best loved local beers in just six short years shows that doing what's best for the beer is much appreciated by consumers. Omar is a little bit in awe of the success they've experienced, "What's happened to us is nothing that me or Todd or anyone else would have ever thought would happen. We always thought we would brew beers that literally didn't belong in every bar and liquor store." Fortunately for and thanks to Minnesota beer drinkers, that is not the case.