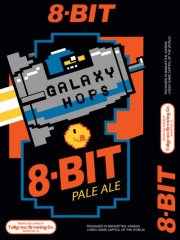 Bryant Lake Bowl. 5:30-9pm Thursday.
Up, Up, Down, Down, Left, Right, Left, Right, B, A, (Select) Start…

This cheat code takes you through a secret tunnel and into the doors of the famed Bryant Lake Bowl for a very special tapping of our newest beer release…"8-Bit".

8-Bit is our super rad hop-rocketed Pale Ale w/ Galaxy Hops out of Australia. These hops bring a unique melon, and tropical fruit-like character to the beer.

Musical guests will be Nerd Enhanced Sound (NES) which will be recreating the fantastic world of 8-Bit sounds while you play along to your favorite video games on the big screen in the theater.

For every 8-Bit ordered, you will receive a Zelda-style coin purse, containing rupees (or POISON, so be careful!) to bring next door to our friends at Rusty Quarters to play one of 3 arcades, chosen by us.

Snap a pic of your high score and bring it back to add to the board. We'll be handing out some major slammin' prizes for the winners.

This night is going to be fun to the MAX! So please mark your calendars for next Thursday and tell your friends.

We can't wait to bring you our new beer!

Peace, love, and LEVEL UPS!