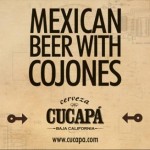 This Thursday's tasting at Heritage involves Mexican micros… read on…
Believe it or not, there are a handful of Mexican microbreweries that are rewriting the rules for south-of-the-border brews, the most prominent being Cucapá Brewing Company. Their name comes from one of the five Indian tribes that live in the Mexicali Valley of Baja who were the first settlers of the region and whose love for water and nature took them to live in the delta of the Colorado River.

For this week's Thursday night the 17th tasting, we will be pouring 2 of their 22oz bomber brews. We'll have samples of *Lowrider*, a Rye Ale made with wheat, German hops and a Belgian yeast strain, and *La Migra*, their Imperial Stout named after border guards that is brewed with piloncillo, a Mexican candy.

Our Thursday tastings run from 5-7PM.