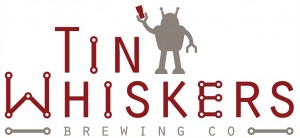 This Friday at 5pm, head over to Tin Whiskers Brewing Company in St. Paul for the tap release of the winning beer from their "Community Sourced Beer" competition.
The contest winner was a Baltic Porter brewed Matt Mueller. Not surprisingly, the name, Joule Cat, fits right in with Tin Whiskers. (Wikipedia refresher for those of you who don't recall/know what the hell a Joule is…)
Last November, Tin Whiskers launched the Community Sourced Beer homebrew competition. The winning beer was brewed this spring by the homebrewers with head brewer Derek Brown.
According to Tin Whiskers co-founder and President Jeff Moriarity, "We wanted to give someone in the home-brewing community an opportunity to brew their creations on a larger scale and taste the fruits of their labor without investing the money and resources needed to build their own brewery."
You, dear readers, can check out Joule Cat Friday at 5pm at Tin Whiskers' taproom.
Tin Whiskers
125 East 9th Street
St. Paul, MN 55101