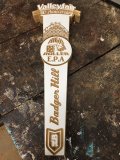 Valley Fair is turning 40 this year and they wanted to celebrate with a special beer offering at the park. The folks at Badger Hill met up with Valley Fair last month to come up with a beer (Extra Pale Ale) that will be available at 3 locations within the park. Those locations are Atomic Beer, Chickie's and Pete's, and Depot Refreshments.
The beer will be called High Roller Extra Park Ale and will also be available in the Badger Hill Taproom when the beer is officially released on Friday, May 13th. Oh, and the tap handles are made out of reclaimed wood from the famous High Roller ride that was built back in 1976. The beer checks in at 5.2% ABV and hits 43 on the IBU scale.
Who says that kids get to have all the fun?
Also, The Curious Goat's little brother The Smoking Cow will be debuting at the Badger Hill Taproom tomorrow (Friday, May 5th) from 4:30 until 8 pm. Ian Gray and Kiri Anderson are the ones behind both of these trucks, and they are known for serving up some of the best locally sourced food around. Heads up: If there's brisket on the menu, order that. You'll thank me later.
Cheers!