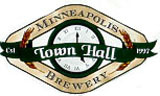 …um. That just sounds awkward. Let's move on, shall we? Here's another beer release at Minneapolis Town Hall Brewery.
Well you drank all the Blueberry Wheat…Good Job! Now we get to release "Cow Tipper", this is a Midwestern Wheat Beer. A great addition to nearly any summer event Cow Tipper is brewed with over 50% malted wheat.
Stop in for the release today @5pm.
Moo!