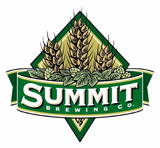 Yes, two new beers from Summit Brewing Company in St. Paul… and that doesn't even include Unchained No. 9! First up, look for Summit Summer Ale, said to be a Kolsch-inspired beer, but not a remake of the Kolsh that was the first in the Unchained series. Expect that beer in April.
ABV. and IBU not ready yet. Art & other details to come.
• A balanced, highly drinkable session beer for casual and serious beer lovers alike
• Clean, mellow bitterness balanced by slightly bready, toasted malt qualities
• An inspired summer ale with elegant fruit and ?oral aroma
• Released in late April
Next up, look for Summit Saga IPA in the latter part of May. Saga is a West-coast style IPA said to be inspired by Summit's 25th Anniversary beer. It'll be a year-round offering available in six & twelve packs. This confirms what some of you have probably been hearing since the Silver Anniversary's release. Hops? Yup. It'll feature Rakau hops from New Zeland along with Citra, Centennial and Amarillo. Rakau is new to me, though it's said to fall in the same ballpark as Amarillo & Summit hops.
Once again, no ABV or IBUs yet.
• Pronounced hop ?avor and aromas of Kiwi, Passionfruit, Apricot and Gooseberry
• Clean, assertive bitterness with balancing Pale malt characteristics
• Named after the Norse Goddess of poetry, who was the God Odin's drinking companion. Also, it was quite a saga to pick a name!