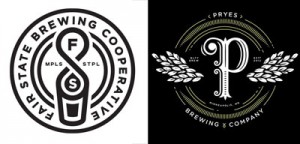 Over the course of the last week or so, two new breweries have launched product for the general public. Fair State delivered their first beer, a hefeweizen, to Grumpy's NE last Monday. Their taproom is also open for business, though hours are a bit sporadic during their soft opening.
And because one new brewery isn't enough, Pryes Brewing Co. launched into the market with an IPA, Miraculum, currently available at Burch Steak House, Butcher and The Boar, Libertine, HeyDay and Village Pub.
Congrats everyone! We're looking for good things from both breweries!