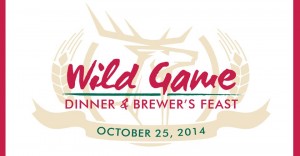 Drop everything. The colorful palette of the north is calling your name… and your belly. Jump in the car (make a reservation first!) and head north to Grand Superior Lodge for some fine imbibing and delicious wild game. Oh, and the colors aren't bad this time of year, either.
Whether you choose to stay the entire weekend and take part in the special Friday-night reception with chef-driven appetizers and wonderful Castle Danger beers or whether opt for the Saturday only wild game dinner and South SHore Brewery beers, you're going to have a good time. Promise.  Weekend long packages start at at $127.25/person for the weekend, which strikes me as really reasonable given everything you get out of it.  More details below…
Reservations required: 800-627-9565
FRIDAY NIGHT RECEPTION
Wild Game Weekend Guests Only
Prepare your palate for the Wild Game Feast by attending this sampling of chef-prepared appetizers, beer provided by local brewer Castle Danger and Scotch and Whiskey sampling from Phillips Distributing.
Whitefish Wild Rice Chowder Lake Superior Whitefish, Minnesota Wild Rice, Wild Boar Bacon, rich and creamy broth.
Confit Duck Quesadilla Tender slow-braised Duck, Jalapeño Tortilla, Smoked Gouda Cheese, Blueberry Jalapeño Salsa
Drunken Pheasant Bites South Dakota Peasant soaked in Castle Danger Ale, wrapped in Wild Boar Bacon, Pineapple Teriyaki Dippin' Sauce
Elk Summer Sausage North American Elk, Fresh Wisconsin Cheddar, Whole Grain Mustard Aioli
WILD GAME WEEKEND PACKAGE PRICES
CALL 800-627-9565 TO BOOK.
(rates vary by unit type; includes Friday night reception and Saturday night dinner)
Stay in a Lakeside Lodge Room for 2 people (2-queen beds): $134.50*/person (weekend total $269*).
Stay in a One-Bedroom Lake Home with 4 people: $127.25*/person(weekend total $409*)
Many room types available, based on availability. Call for best selection and weekend exclusive reservation.
*plus tax and resort fee. Does not include dinner gratuity.
SATURDAY WILD GAME DINNER
Open to Public and Resort Guests
We welcome Bo Belanger, owner and brewer of South Shore Brewery in Ashland Wisconsin. Enjoy the fresh, seasonal taps in accompaniment to your full Wild Game Buffet Dinner.
STARTERS
North Shore Salad Confit Duck, Minnesota Wild Rice, Fresh Greens, Fresh Berries, Candied Walnuts, Lingonberry Vinaigrette
Antelope Black Bean Chili North American Antelope, Black Beans, Hominy, Tomato Broth, with hint of cinnamon and Mexican Chocolate
Smoked Lake Trout Crepes Lake Superior Smoked Trout, Dried Cranberries, Maple Reduction, Savory Crepes
Smoked Pheasant Spring Rolls South Dakota Pheasant, Soba Noodles, Mixed Vegetables, Honey Chili, Sesame Soy Emulsion
ENTRÉES
Chef-carved Bison Steamship Round Dry Aged Bison, herb encrusted and roasted medium, with an assortment of sauces and jams.
North American Antelope Meatloaf Antelope, Minnesota Wild Rice, Dried Cranberries, Wild Mushroom Gravy.
Venison Parmesan Thin-sliced Venison Tenderloin, Italian Bread Crumbs, Fresh Mozzarella, House-made Marinara, Linguini pasta.
Roasted Quail Semi-Boneless Georgia Quail, Cranberry Wild Rice, Wild Boar Bacon, Maple Demi Glace.
Cherry Wood-Smoked Breast of Duck Pan-Seared Smoked Duck Breast, Tart Cherry Demi Glace, Warm Maple Bacon Potato Salad.
Smoked Pheasant Pot Pie Smoked South Dakota Pheasant, Fresh Vegetables, Rich Pheasant Gravy, Puff Pastry.
Walleye Roulade Broiled Walleye, Cranberry Wild Rice Stuffing, Fresh Herbs, Cranberry Burre Monte
Crab Stuffed Rainbow Trout Pan-seared and Roasted Rainbow Trout, Crab Focaccia Stuffing, Lemon Pepper Cream Sauce.
Planked Wild Salmon Cedar Planked Salmon, Brown Sugar and Honey, Wilted Spinach.
Your dinner buffet will include an assortment of side dishes and made-from-scratch pies for dessert.