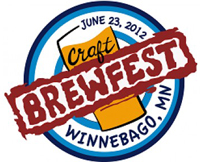 Let's plan your weekend! Hot on the heels of The Beer Dabbler at Pride this weekend is the inaugural Craft Brewfest in Winnebago, Minnesota. Does this fest sound familiar? If so, it's because festival organizers worked with the legislature this year to give breweries that don't normally distribute in Minnesota a one-day-pass of sots to allow them to sample their wares at one beer festival a year in Minnesota.
Breweries include Schell's, Brau Brothers, Third Street, Finnegans, Summit, Grand Tetons, Leinenkugels, Cold Spring, Woodchuck, Angry Orghard, Toppling Goliath, Mantorville, Bell's, Big Sky, Horny Goat, Sierra Nevada, Breckenridge, Deschutes, Crispin, New Belgium, Mankato Brewery, Atwater, Shock Top, Brainerd Lakes, Shiner, Doc's Draft, Brooklyn, Lucky Bucket and more.
3-6pm, $20 in advanced, $25 at the gate. A beer garden follows the event from 6-10pm. Proceeds go to support the Winnebago Lions Club.