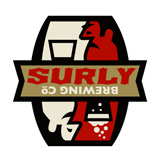 The always-awesome BeerPulse has audio from last weekend's SAVOR event that includes some possible information from Surly Brewing Co.'s Omar Ansari regarding an 8.5 acre tract of land near the U of M. If you're real estate savvy and feel like hitting the Google maps, feel free to share a link in the comments.
"We have a meeting next week to hopefully nail down a 8.5-acre spot in the middle of the Minneapolis-St. Paul area real close to [the University of Minnesota]. The idea is to bring Linda [Haug] on and have her handle the food component. [The facility will have] a 100-150 seat restaurant, 300-seat beer hall and a two-acre beer garden. […] We ordered a German 100-barrel Rolec system that should be showing up January, 2014."
This is the closest that Surly has come to revealing any location that they've considered since their search for a new site for a brewery & taproom began.
[Update] No comment from the brewery, but reader TripleT suggests that site #2 on this PDF might be a good possibility for a brewery. Only time will tell!
[Update II] Official word from Surly on brewery developments:
Surly has narrowed its list of potential locations for its new brewery to just a handful of options spanning three different cities. In Minneapolis, Surly has two locations on its short list, including a property somewhat near to the University of Minnesota and another location in the Harrison neighborhood, which has publicly courted Surly to be part of its ongoing developments.

Brooklyn Center, the current home to Surly Brewing Company, has proposed options that are the subject of ongoing discussions. In the last couple of weeks Surly has also been approached by another innersuburban location that is substantially larger than the brewery plans, and may change the project scope, but is considered a short list option too.

We are making great strides, but a formal announcement – after due diligence — is still months away. As Surly has said in the past, this is a 100-year decision and location and viability is absolutely key, so it does take time.